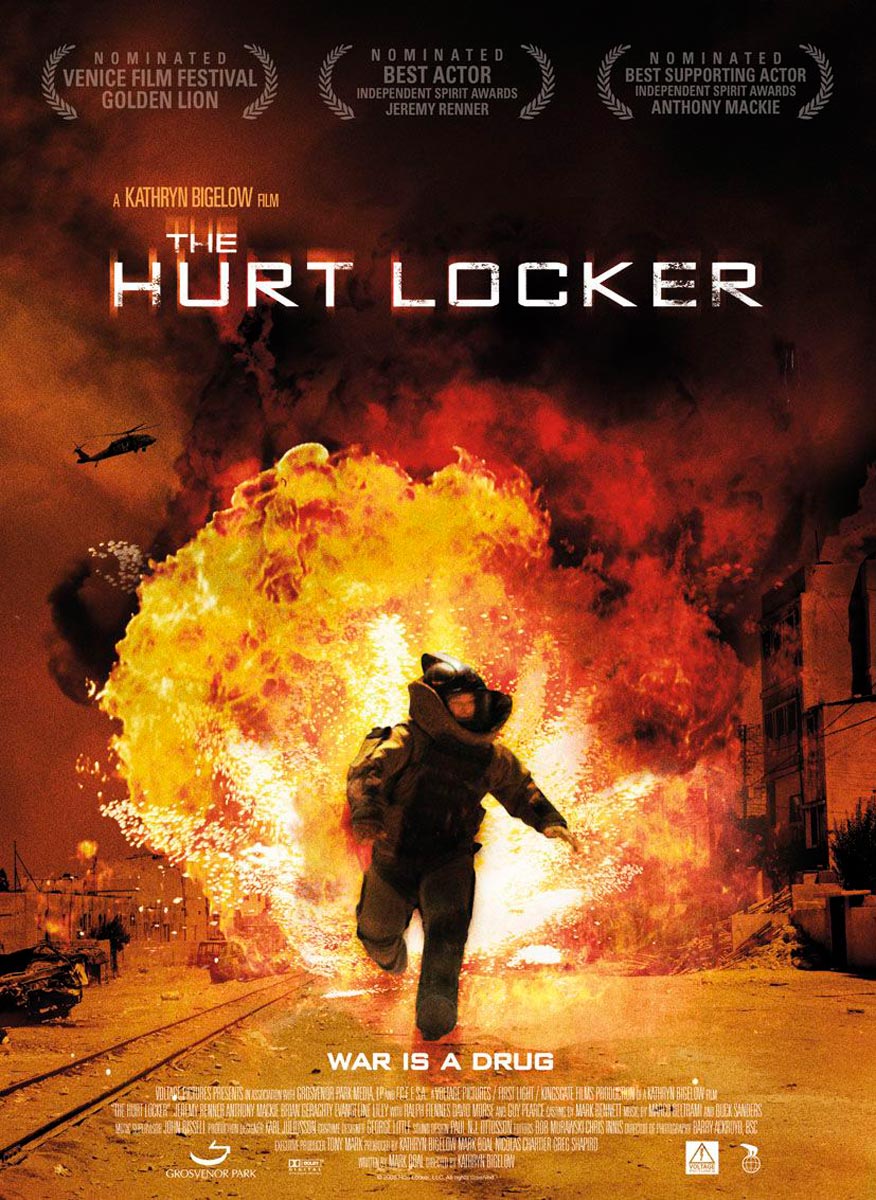 Description from Netflix
:
Kathryn Bigelow directs this gripping drama (nominated for two Independent Spirit Awards) following one of the U.S. Army's elite EOD (explosive ordnance disposal) teams operating in the ferocious war zone of Iraq. As the squad identifies and dismantles improvised explosive devices and other bombs, they must also contend with the frayed nerves and internal conflicts that arise from living in constant peril. Ralph Fiennes, David Morse, Guy Pearce, Jeremy Renner and Anthony Mackie star.



From wikipedia

:
The script was written by first-time screenwriter Mark Boal, a freelance writer who has contributed to Playboy, The Village Voice and Rolling Stone magazines and who also wrote the short story that inspired the film In the Valley of Elah.Boal spent time embedded with a real bomb squad, which was a source for the story. According to Boal, "It's the first movie about the Iraq war that purports to show the experience of the soldiers."
Other members of the key filmmaking crew include director of photography Barry Ackroyd, film editors Chris Innis and Bob Murawski, production designer Karl Júlíusson, production sound mixer Ray Beckett, and costume designer George Little. The film's real explosions and special effects were designed by Richard Stutsman and his team. The score was composed by Academy Award nominated composer Marco Beltrami and Buck Sanders.
The Hurt Locker was shot mainly on location in the Middle East, over forty-four days from July to September 2007, during the height of the Iraq war surge. Often four or more camera crews filmed simultaneously, which resulted in nearly 200 hours of footage. There were also two days of pick up shots filmed in or around Vancouver, Canada, to accommodate home town actress Evangeline Lilly.
Although the filmmakers scouted for locations in Morocco, director Kathryn Bigelow sought greater authenticity and decided to film in Jordan because of its close proximity to Iraq. Some of the locations were less than three miles from the Iraqi border. All the Iraqi roles in the film were played by displaced Iraqi war refugees living in Jordan, many of them trained actors who had been forced to flee their country. They included roles by Suhail Aldabbach, Nabil Koni, Feisal Sadoun, Imad Dadudi, Hasan Darwish, Wasfi Amour, Nibras Quassem, Nader Tarawneh and very notably Christopher Sayegh in the role of "Beckham", the Iraqi street vendor kid who befriends Sergeant First Class William James played by Jeremy Renner.
Lead actor Jeremy Renner, who trained with real EOD teams prior to shooting the film, says that great pains were taken to ensure the film's authenticity. According to Renner, shooting the film in the Middle East contributed to this. "There were two by fours with nails being dropped from two-story buildings that hit me in the helmet and they were throwing rocks... we got shot at a few times while we were filming," Renner said. "When you see it, you're gonna feel like you've been in war."
"You can't fake that amount of heat," Anthony Mackie who plays Sgt. Sanborn says, adding, "When you are on set and all of the extras are Iraqi refugees, it really informs the movie that you're making. When you start hearing the stories from a true perspective... of people who were actually there, it gives you a clear viewpoint of where you are as an artist and the story you would like to tell. It was a great experience to be there."
Me:
I really enjoyed this film. I still vibrated a few days after I saw it. It was intense. This is the first movie I have seen this year that deserves to be nominated for anything. It's nice seeing Kathyrn Bigelow directing again. She hasn't done anything since "Strange Days" and prior to that "Point Break."
I HIGHLY recommend checking it out.