I started my new job on Monday. I have been going computer training and at the end of every section it says "click to continue." I think I have heard "click to continue" over 200 times in 2 days.
The week has been training in the main Seattle office. Friday, I get to go to where I will be mainly stationed, take the tour and meet the girl I am replacing. She then goes on vacation until Thursday and then I shadow her until her last day on Nov. 6th. I'll then stay in the other corporate office in Bellevue for all of next week and then I think the transitioning begins. Part of the trick to this is the woman I am replacing is stationed in the corporate office, but when I start the job they will have me on-site at the warehouse. No one knows how that is going to quite work so it's a bit complicated for the moment.
I think this will work out, but there is going to be a bit of a learning curve and it comes at the same time as the big ramp up so I'm a bit freaked, but I think this will be good. It is going to mean being extremely disciplined and organized. Thankfully, I am organized and I can be disciplined. I just hope I can decorate my office a bit with fun stuff to counteract the extreme seriousness of my job.
Since I will need to dress warm while at the warehouse because half of it is either fridge or freezer, I think I am going to buy myself this: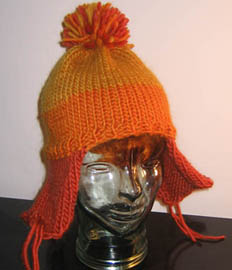 Pretty cunning, don't you think?